In the world of affiliate marketing there are a few different marketing models that an advertise and affiliate marketer will use.  I'm going to go over five of the most commonly used marketing models. As affiliate marketers we can take advantage of these five models to create passive income. These five models are known as CPM, CPC, CPE, CPA (CPL), and CPS. We will go into what each one is in this post. By doing so, you'll quickly realize the differences among these five models and pick one that is going to be best for you.
Some Terminology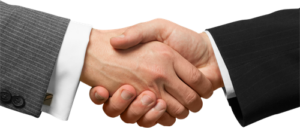 Before we get started, let's quickly go over two different terms.
Advertiser – The advertiser is the company that wants to promote their product/service. So the terms CPM, CPC, CPE, CPA, and CPS really apply to the advertiser since the first "C" in each acronym stands for "cost." The "P" stands for "per." So in other words, what is the advertiser willing to pay? What cost is the advertiser willing to pay per 1000 impressions, per click, per engagement, per action, or per sale?
Publisher – The publisher is the affiliate marketer. This is the person looking to make some passive income from his/her site by promoting CPM, CPC, CPE, CPA, and CPS offers.
Marketing Ad Types

Want to share this image on your site? Just copy and paste the embed code below:
CPM – Cost Per Mile
CPM is Cost Per 1000 Impressions. So what is an impression? An impression is an ad view. Think of it this way. You visit a site and see an ad show up on the page. That is an impression. You don't have to do anything with the ad other than see it. Advertisers who want to sell their products/services work with CPM networks such as Google to figure out how much they will pay out per 1000 impressions. So, for example, if an advertiser pays $2 per CPM that means they are paying $2 every time their ad has been viewed 1,000 times.
CPC – Cost Per Click
CPC is Cost Per Click. With CPC, as a publisher, when someone clicks on an ad, you get paid. It's that simple. If you want to get started with CPC advertising on your site, you must work through a CPC network such as Google Adsense, Infolinks, or Revcontent. My personal suggestion is to start with Google Adsense since they are the biggest network.
Both CPC and CPM advertisements are usually spread throughout a website via banner or contextual links.
CPE Cost Per Engagement
Cost per engagement refers to engagements made by visitors to the ad. An example would be a lightbox ad whereby the visitor hovers over the ad making the ad expand and become large. If the visitor stays on the ad for an allocated amount of time then commission is earned for the publisher. A good example of CPE, which I've seen a lot of lately, involves ads for games. They call these advergames. During the ad the visitor is able to play some of the game with the hopes that the visitor will click on it to take them to the game.
CPA Cost Per Action / Cost Per Acquisition / Cost Per Lead
CPA is cost per action (although I've also seen it go by the terms cost per acquisition and cost per lead). With CPA we go a step further. As a publisher, In order to earn a commission the person who clicked on your ad needs to take an action. That action can be one of a variety of actions such as
Filling out a form with some basic information (name, email, phone, etc…)

Taking a survey

Installing a free app

Opting in to an email list
Once the agreed upon action has been made, the publisher receives a commission. Now notice none of these actions involves making a sale. That's where cost per sale comes into play and is what we'll talk about next. The way I like to look at it is like this. With CPA, you, essentially, are being paid for obtaining leads for companies. Business owners understand the value of quality targeted leads and are willing to pay for them. Because of this, payouts are higher compared to CPC. From my experience, I've been paid out anywhere from around $1.00/lead to $14.00/lead.
Join a CPA Network
To get involved in CPA advertising you usually must work through a CPA network. There are a lot of them around. The one I am, personally, most familiar with is MaxBounty. I work through them because they have a really great reputation in the world of CPA.
So what these networks do is they work with the advertisers and affiliates. As an affiliate marketer you never work directly with the advertiser and vice-versa. Instead, you work through an affiliate manager who works for the CPA network. This actually works out to your advantage for a couple reasons.
Ads That Convert – They pick the best ads that are more likely to convert.

Variety – they have a variety of offers to pick from and you can usually see which ones are converting the best from the analytics they receive.

They Want You to Succeed – Your success is their success. So they will offer training, usually.
For the affiliate marketer, CPA can be a very lucrative way of earning income. There are people who claim to earn thousands of dollars per month from it.
Cost Per Sale (CPS)
Cost per sale is the next rung on the ladder. As I alluded to earlier, with cost per sale, as an affiliate marketer, you are paid per sale made. This payment is referred to as a commission. I've seen commissions that range anywhere from 10% to 75% on the sale. So, as you can imagine, payouts vary quite considerably. But you also stand to earn the biggest payouts.
Also, unlike CPA, you usually work directly with the company you want to promote. If you're ever interested to see if a company has an affiliate program available, they will usually have an "affiliates" link located at the bottom of the website. The link sometimes will also say "Partners."
Like CPA networks, there's also affiliate networks available. A couple great networks where you can peruse various products that you may want to market are Clickbank and JVZoo. Many companies run their affiliate program through a third party company such as Linkshare, Commission Junction, or ShareASale as well. From my experience, Clickbank and JVZoo products seem to offer the highest commission percentages. This would be why so many affiliate marketers use them.
It's definitely worth investing in some training if you're getting serious about it. I suggest the JVZoo Academy course. It's reasonably priced and jam-packed with great value that help you get up and running with CPA or CPS. It's JVZoo's only course that they personally endorse.
Which Model Is Best For My Website?
You might be wondering, which model is best for your website. The best answer I can give you is to play around with all five models. First and foremost, you need traffic coming to your site. Once your site starts receiving some decent traffic you should, ideally, be able to monetize on it through these methods.
This is where blogging comes into play. Many bloggers make really great side income and even full-time income from blogging and the various revenue paths it leads to. If you want to know how to get started blogging, I suggesting checking out the Pro Blog Resources Start Here page.
You should know your target audience the best. So for example, you may come across a CPA offer that would mesh really well with your target audience. Because of that you may decide to put the offer on your site. Experimentation is the best advice I can give you. Every site is different. Where some sites may do really well with CPC, they will not do so good with CPA and vice-versa.
I'd like to hear from you as well. Which model has worked the best for you? Why do you believe that model has worked more compared to the others?