Here it is, my Amazon FBA post. So towards the end of 2014 I took a shot at selling products through Amazon using the Fulfillment By Amazon (FBA) program in order to bring in a little extra income. I continued to sell products throughout 2015 as well. My end-result was pretty good. For 2015, I made $18k (a little more than $18k, but I'm just rounding down) in total product sales. Take away expenses and cost of inventory and my total profit was approximately $9k. Not bad for a little side money in 2015. It definitely helped us out.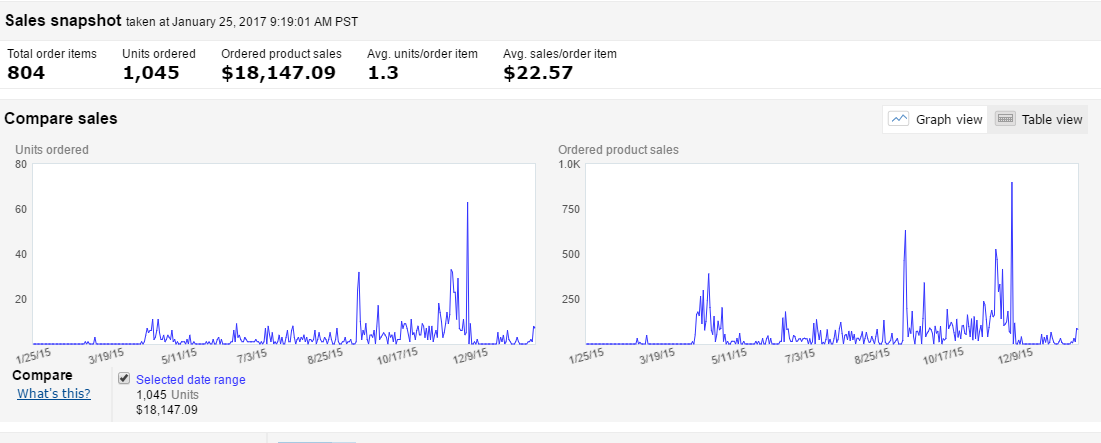 So in this post I'm going to elaborate on my story. I'll tell you
How I got started and sold items.

What I would have done differently.

What I'm doing now.
How I Got Started With Amazon FBA
So in 2014 I was looking for a way to make some money on the side. After seeing some videos on Ebay arbitrage, I was inspired to go check out places like Goodwill, Salvation Army, and local garage sales for items I could resell. I ended up finding some items that I was able to sell. Now I really didn't like using Goodwill and Salvation army as my means for inventory for a few reasons.
Just because I bought something didn't mean it was going to sell

If I do buy something and sell it right away I can't just go back and buy more of it.

Something about it just didn't feel right.
Then I remembered a place, nearby to me. It was basically a bargain warehouse. I remembered this place sold all kinds of stuff and for really good prices. So I decided to go check it out one day after my college class.
I went in there, iPhone in hand. As I started looking around I noticed that pretty much everything was $1. I saw some items that, intuitively, I thought had to be worth more than a dollar… and they were. They were worth a lot more more than a dollar! So here's what I did.
Remember, I said I had my iPhone in hand. On my iPhone I had the Amazon app installed and I had the Amazon FBA calculator pulled up as well.
How I Chose Products To Sell
So here's what I would do. I would find an item and scan it's bar code using my iPhone. It would then pull the product up on Amazon so I could see how much it was selling for.
This is when I started to get very excited.
For example, I took a pack of measuring cups and spoons that he was selling for $2 and looked them up. On Amazon, the same product was selling for $14.99. I then input this item into the FBA calculator to see how much Amazon would approximately take. Their fee would end up being $5.20. So $14.99 – $5.20 – $2 = $7.79. This means if I spent $2 I would make $7.79.
Which means I just about quadrupled my investment. I went over to another item and the profit margin was even bigger.
My Intuition For What Would Sell Worked
I ended up finding about 6 different items I was very interested in. So because this was just a normal store, I decided to purchase a little bit of each one to start. If I remember correctly, I purchased five of each item. Luckily, each item except one of them sold. So to make things even better, my intuition was good and it let me know where to scale-up (buy more).
I Was Able To Experiment With Small Amounts
What was great about being able to take this approach was that I was able to experiment by purchasing small amounts of the items I wanted to sell. I'm talking 5 – 10 of each type of item.
Imagine if I had to buy a pallet of each type of item. That would have been a big upfront investment and one of those pallets would have been a waste of money. So with a small investment I was able to find out what sold and what didn't sell. Armed with that data, I went back and purchased more of what sold. As my inventory started to go low, I'd go back and buy more.
Now here's where things started to get a little weird and my profit margin was impacted.
Store Owners Ruined My Fun
Put simply, the store owners started to catch on to what I was doing and I don't think they were very happy about it. Actually, jealous is probably the best word to use.
Here's the story. I'm in the store one day. I have a shopping cart loaded with items (which is my inventory). I go to the checkout and instead of charging me, say $1, he says, "That will be $3." I was like, WTF! So I had to sit back and say "Is it still worth it?" Fortunately, I was still satisfied with the profit margin. So I purchased them.
But then it got even worse. The guys at the store must have said to themselves, "Screw this guy. Let's sell this stuff ourselves on Amazon." And that is what they did. Fortunately before they did that I was able to make a $2,500 investment in merchandise.
What I Would Have Done Differently
In retrospect, knowing that the stuff I was selling sold as good as it sold and yielded such a high profit margin, I would have went to the bank seeking a business loan. Then I would have purchased all of their inventory early on. It would have probably been a $10k – $15k investment. I would have had to also rent a storage area for all the inventory, but it would have been totally worth it. Had I done that I believe my total product sales could have easily been $40k – $50k with a $25k – $30k profit.
So in retrospect I should have scaled-up early on based on the fact that I knew what sold and what didn't sell. I dabbled. I spent $350 one time. Then once inventory went low I spent $500. I waited for inventory to go low again and then purchased more. Since I was going back so much, they caught on to what I was doing and basically cut me off and put the items for sale themselves. Had I spent a couple days with them early on and worked out a deal I believe I could have made huge profits.
Not Complaining To Much… I Still Did Awesome
Don't get me wrong, I still made a little over $18k in total product sales, which I am very happy about. So that got me thinking. If I want to keep this train rolling, obviously, I'm not going to be able to work with these guys. The well became dry, so-to-speak. So I thought to myself, I need to find other companies I can purchase inventory from.
What I'm Doing Today
That brings me to wear I am at today. Here is my current situation. I'm writing this article in 2017. So far I have done very little product sales this year. As a matter-in-fact, the only sales I have are from items I had sitting around that I did not send in back in 2015. I still have some items in my basement that I plan on shipping in. I expect to make a few hundred dollars in profit from.
So overall, I really haven't accomplished much with my Amazon business this year. I've been more focused on doing things like starting this site, spending time learning programming skills in order to bootstrap some ideas I have (and I have lots of great ideas for businesses I intend to bootstrap). All that on top of raising a beautiful baby girl.
That said, I haven't given up on Amazon FBA. I realize, from experience and listening to other people's experiences, the amazing profit potentials Amazon offers. Plus, like I mentioned earlier, it's passive income, which is the icing on the cake. My situation was different than most. So I decided on a few things  I need to do if I want to do this for the long run I need to understand:
Drop-shipping

Creating products overseas.

I need access to wholesale suppliers that will work with me and let me order a small number of items at first to see if they sell (this is the most similar to the model I have been using).
Invest In Yourself
In order to do that, I decided I'm going to take some courses on Amazon FBA, Drop-shipping, and Alibaba.
Here are the courses that look good to me that I'm going to purchase:
From China to Amazon – A LIVE case study and complete guide
How to Start an Amazon Store on a Tight Budget
Alibaba – How To Succeed At Importing Products
Private Label Products: Create Brands & Sell With Amazon FBA
eBay Drop Shipping Guide with No Inventory – Work From Home
In addition to that, you can also take the approach I described for how I made $18k. While reading this article you may have thought of a place nearby to where you live where you can experiment the way I did.
From what I'm learning, to keep an Amazon FBA business afloat and keep it profitable for the long-run, it's a good idea to invest in these resources so that you learn what you need to know. It will also help you plan a better strategy for success.
What I Like Most About Amazon FBA Program
Here's what I like the most about the Amazon FBA program. As I mentioned, it's passive income. At least I consider it to be. What makes it passive income? Well, put simply, Amazon handles four major tasks that you don't have to. Namely, once an item sells they:
Know when an item sells

Pick – They pick the item from t

heir warehouse

Pack – They  pack the item

Ship – They ship the item

Customer support – They handle all customer support. You never deal directly with the customer your item sold to.
It would have been very difficult for me to run this business if I had to handle those five steps. Using FBA, I sent in a bunch of stuff all at once and then sat back while the sales came in. I would basically log in every day to my FBA account and see what has sold. I was always a good feeling to log into and see how many items sold the previous day.
So to wrap this up, my three biggest suggestions to you are to invest in yourself by taking some of these courses. When you do decide to sell, if possible, experiment with small amounts of goods at first in order to see how quickly they sell. Finally, do some math. Make sure that after all expenses you are still making a good profit margin. The higher the profit margin, the better. Best of luck to you.