Goals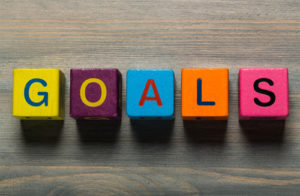 Before I go into my goals, I want to answer a question my brother sometimes asks me as he's looking at me like I'm crazy. That question is,
"Where do you get the time to do all of this?"
Now I can totally understand this question. I work a full-time job, have a wife, child, three dogs, and a house. So how do I plan on getting the time to do all this? Well the way I see it is like this…
You're Into Sports. I'm Into Making Money
Most people I know have hobbies. They have things they are into. For example, most guys I know are into sports. So a huge majority of their time is taken up watching sports, playing with their fantasy league, watching ESPN, and going to games. Sports takes up a lot of time for guys. Don't get me wrong. I love sports. But it's not something I have the time for right now. Not until I succeed. So instead of spending my time updating a fantasy league, my time is spent working on generating passive income from multiple streams.
Moving Forward Financially
So I have a job that pays me a good salary yet I still struggle to get by and I'm not going to lie; it's a scary place to be. I really hate to say it, but we live paycheck-to-paycheck. We have credit card debt. We have about $2,000 in home improvements we want to do. And ultimately, we want to move into a bigger home.  The scary thing is I can't seem to move forward. Money gets spent as quick as it is earned. This is very concerning. It's a scary thing for me to think about. So here's my plan and in my head, somehow, this plan makes sense.
Goal #1
Reach $10,000 in Savings
Why is this goal #1? I don't know exactly, other than to say that $10,000 feels like a more secure number to be at. It's not a great place to be but it's definitely a better place to be but a great place to start. I also feel that if I'm at $10,000 I must be making some side income and things are now starting to build.
Goal #2
Pay off credit card debt, make some improvements to the home and have $10k in savings.
I'm going to reach $11,000. Once I do that I will pay $1,000 on my credit card.
Once I reach $11,000 again I will pay $1,0000 more off on my credit card.
I will keep this pattern going until my credit card and my wife's credit card are paid off. Right now I'm not making any big payments. So to pay $1,0000 on something is a lot to me. Honestly, I want to see credit card debt go away sooner than later. So I'm addressing that as one of my first priorities. So once my credit card debt and my wife's credit card debt is paid off my second goal will be complete.
At this point, I'd save up another $2,000 and then do some improvements around our home. This would include a lot of small odds and ends that we can hire a handyman to come over and take care of in a week or two.
Goal #3
$15,000 in Savings
Again, it's just a number that will make me feel a little bit better financially and will let me know that things are really starting to work.
Goal #4
My Wife Quits Her Job
Now this goal may happen in parallel with goal #3. It may happen before we reach goal #3. I just believe it will happen right around this time period. This would free her up to spend more time with our child. She just works part time right now at a job that pays a little more than minimum wage. So it's not like she's making a whole lot. Don't' get me wrong, the money she makes is very helpful. But it's not a whole lot of income coming in. So what we said is when we get to the point where we are consistently making around $1500/month, minimum, on the side, through everything we are doing she can safely quit her job.
Goal #5
$30,000 In Savings
This number will make me feel a lot more secure. When I'm up to the point where I have $30,000 in savings then I know that I'm probably making some decent money on the side.
Goal #6
Purchase a Bigger Home
We envision a home with 3 to 4 bedrooms, full size basement, 3 car garage, and a detached living unit that would be used as my office.
Goal #7
Quit My Nine-to-Five
This may happen in parallel with goal #6. So it may happen sooner or later. Now for me to quit my job and feel comfortable doing so I need to be consistently making (at a bare minimum) $8,000/month. I'm not sure if I need to be moved into my new home before I quit my job. That's something I will figure out later on.
Measuring Success
So it's a lot of goals to meet. Now the name of the site is WillISucceed.com. Will I Succeed? That is the question. At what point will I say to myself, "Yes, I succeeded!"? Well, there are seven goals, in total, that I just elaborated on. Once I reach each goal I will proudly say, "success!". Now, ultimately, the biggest goal is being able to quit my nine-to-five job and have my empire that I'm building support my family. This is a mighty big bar to set.
I truly believe I will reach this goal. Better yet, I believe I will exceed it. I'm going to go even further and say
I believe I will far exceed it.
For me, the ultimate goal is to quit my job.
To work for myself.
To work when I want.
To work the hours I want to work.
To feel fulfilled knowing that I built my own empire.
That I'm self-made.
That's when I will say,
"Yes, I succeeded!"
Stay Connected
Want to see how I progress on this journey? Join the community watching me and asking "Will he succeed?"
So will I succeed? That is the question. My answer, is yes, I will succeed (that's my confidence speaking).
Would you be interested in partaking in on this social experiment of mine? Would you be interested in periodically seeing my progress as I reach milestone goals. You'll learn from what I do that works and what I do that doesn't work. Either way, you'll get some value from it.
I'd love to build a huge community of like-minded people that will follow me on this journey.